3D Ink-Extrusion Printing of Thermoelectric Materials
co-advised by Dr. Donna Guillen (INL), Professor Jeff Snyder (NU), as well as colleagues at Aerojet Rocketdyne, Inc., Jet Propulsion Laboratory, and Idaho National Laboratory (INL)
Thermoelectric (TE) materials can convert into electricity some of the lost energy due to waste-heat dissipation (power plants, engines, materials processing, etc.), and, inversely when subjected to an electrical current, they operate as heat pumps, thus providing solid-state refrigeration.
Applying additive manufacturing techniques to develop TE devices can decrease manufacturing costs while maintaining high performance and enabling complex geometries. By developing 3D ink printing and sintering processes for medium- and high-temperature thermoelectric materials such as Bi2Te3, NbCoSb, and La3Te4, this project aims to optimize and 3D-print thermoelectric elements with unique geometries and architectures that maximize heat conversion to electricity and tackle sintering issues related to porosity and phase assemblage that ultimately affect the module performance, both mechanically and electrically.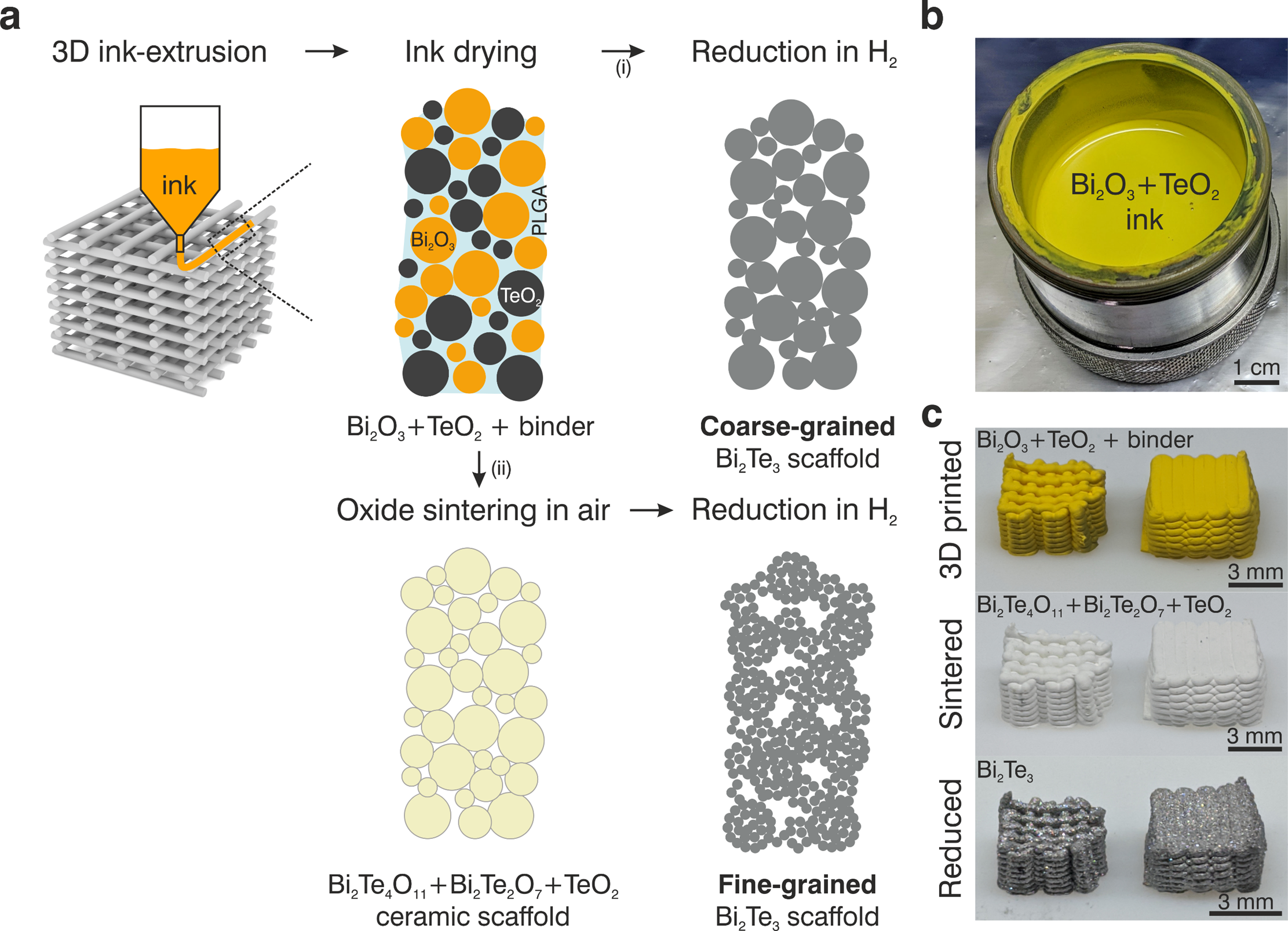 Related Publications
C. Kenel, N.R. Geisendorfer, J. Peng, M.A. Grayson, D.C. Dunand, "Bi2Te3 Filaments via Extrusion and Pressure-less Sintering of Bi2Te3-based Inks", MRS Communications, accepted for publication, September 2021.
C. Kenel, M.M.F. Al Malki, D.C. Dunand , "Microstructure evolution during reduction and sintering of 3D-extrusion-printed Bi2Te3+TeO2 inks to form Bi2Te3", Acta Materialia, under review.
Funding support
Department of Energy